Project Group meeting in Luleå 28-29 October 2019
MEDICINTEKNIKDAGARNA, MTD 2019 in Linköping 2-3 October 2019
The project presented its poster, which pleasingly enough was recogniced with the Best Poster award.
Picture: Nils Sandberg, Region Västerbotten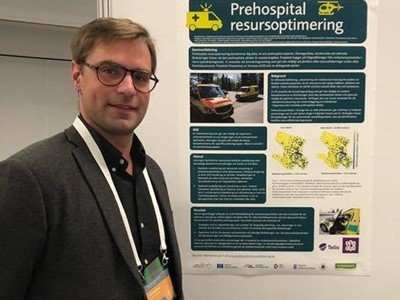 INNOVATIONSVECKAN 2019
During Innovationsveckan 2019, Region Västerbotten/Projekt Innovation+ with support from the European Regional Fund, arranged a visit and lecture by Carl Rosén from the Ministry of Enterprise and Innovation. Carl Rosén is the highest non-political official at the Ministry of Enterprise and Innovation, with responsibility for, among others, Vinnova, PRV and Tillväxtverket. At the same event, Prehospital Resource Optimization and our new poster was presented.
Picture: Britt-Marie Nordström, Region Västerbotten, Johan Lundmark, Denzir and Carl Rosén, Swedish Ministry of Enterprise and Innovation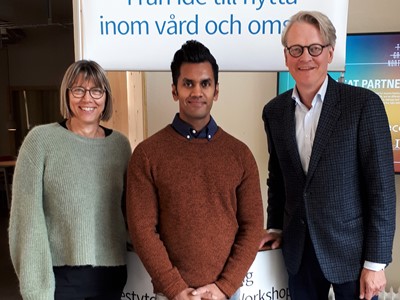 FLISA Congress, Karlstad 17-19 September 2019
Britt-Marie and Patrik Rydén attended the FLISA congress in Karlstad, where they presented the Project.
During FLISA the first test simulation were presented. Among other things, Northvolt's establishment of a battery factory in Skellefteå has been simulated. The question was: How will the ambulance care be affected if the population increases with 10000 due to a battery factory in Skellefteå 2020?
Picture: Britt-Marie Nordström, Region Västerbotten and Patrik Rydén, Umeå Universitet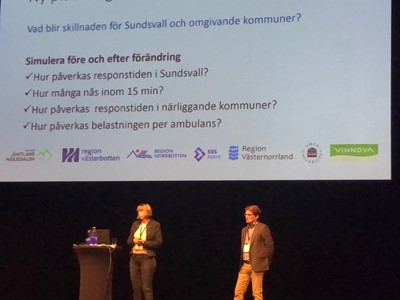 Project conference, Sundsvall 29-30 august 2019

Vinnova's program Conference within Challenge-driven innovation, Stockholm 23 may 2019

Project Conference, Umeå 16-17 may 2019
Digitalis, Umeå 14 may 2019
Digitalis is Region Västerbottens yearly event with lectures, exhibitors and the possibility to try new tecnical equipment. The event is aimed at Health care staff, researchers, students and anyone who might be interested in how digitalization can be utilized to achieve an efficient and equal ealth and welfare.
Picture: Britt-Mari Nordström giving a lecture about the project.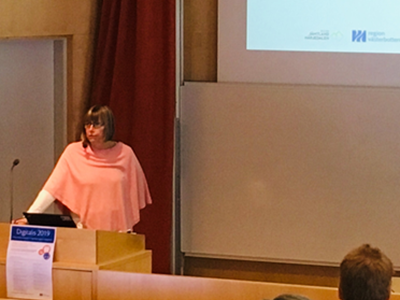 Sasuf's research & innovation week, South Africa 06-10 may 2019

Dialogue with Vasa University of applied science, Umeå 17 april 2019

Umeå University and Statistikfrämjandet's 46th Winter Conference in statistics, Hemavan 10-14 March 2019

Dialogue with Telia and Statistiska Centralbyrån, February 2019
FLISA's spring meeting in Stockholm, 5-6 Febryary 2019
The Project visited Flisa's spring meeting with the title The Close Care of the Future. The close care of the future is closely linked to the placement of the highly specialized care in the country and will both affect and incresae the demand for well-functioning transport. This is a challenge that the project is working to solve.
Project Meeting in Östersund 30-31 JAnuary 2019
The project meeting in Östersund became a rewarding and interesting meeting with many and long discussions. The different professions we have in the project have now started to speak the same language and we understand each other.
The regions had developed several different cases that they presented, what can seen as future simulations. Umeå University presented a first rolling simulation and pictures of a first step to solve future optimizations. SOS Alarm presented a first draft of management.
Picture: Nana Li presenting a simulation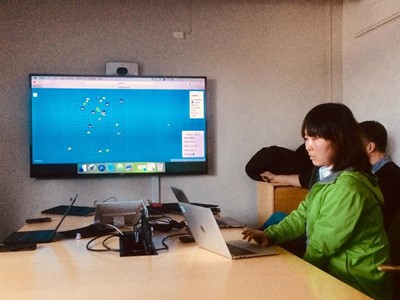 Project conference, Umeå 26-27 November 2018

FLISA's annual Congress, Örebro 02-04 October 2018

Metis forum in Lindholmen's science park, Göteborg 26 September 2018

Start-up Conference, Umeå 27-28 August 2018

SASUF's (South Africa Swedish University Forum) Research & Innovation Week, Pretoria South Africa 14-15 MAy 2018
Starting point! The project started 1 May 2018
Step 1. The pre-study A strategic tool for impact assessment and resource optimization in pre-hospital care was completed 11 April 2017 - 18 January 2018